Bluebonnet and Camping License Plate Funded Projects
Show your support for state parks! Put a Bluebonnet or Camping plate on your vehicle, trailer or motorcycle and help preserve the unique beauty of 89 state parks across Texas. The bluebonnet is the state flower and symbolizes the natural beauty of Texas. The new Camping plate is a tribute to all those who love to camp in Texas State Parks.
Monarch Butterfly, Horned Lizard, Hummingbird and Rattlesnake License Plate Funded Projects
Show your support for Texas native non-game wildlife! Put a Monarch Butterfly, Horned Lizard, Hummingbird or Rattlesnake plate on your vehicle, trailer or motorcycle and help conserve wildlife diversity by funding a vast array of projects that help protect native species and their habitats. Beneficiaries include: Horned Lizard (the state's official reptile), the Texas Bumblebee, Ocelot, Attwater's Greater Prairie-Chicken, Red Wolf, the Whooping Crane, the Alligator Snapping Turtle and an assortment of other mammals, birds, reptiles, amphibians and plants. All projects funded by this plate are used to implement the Texas Wildlife Action Plan.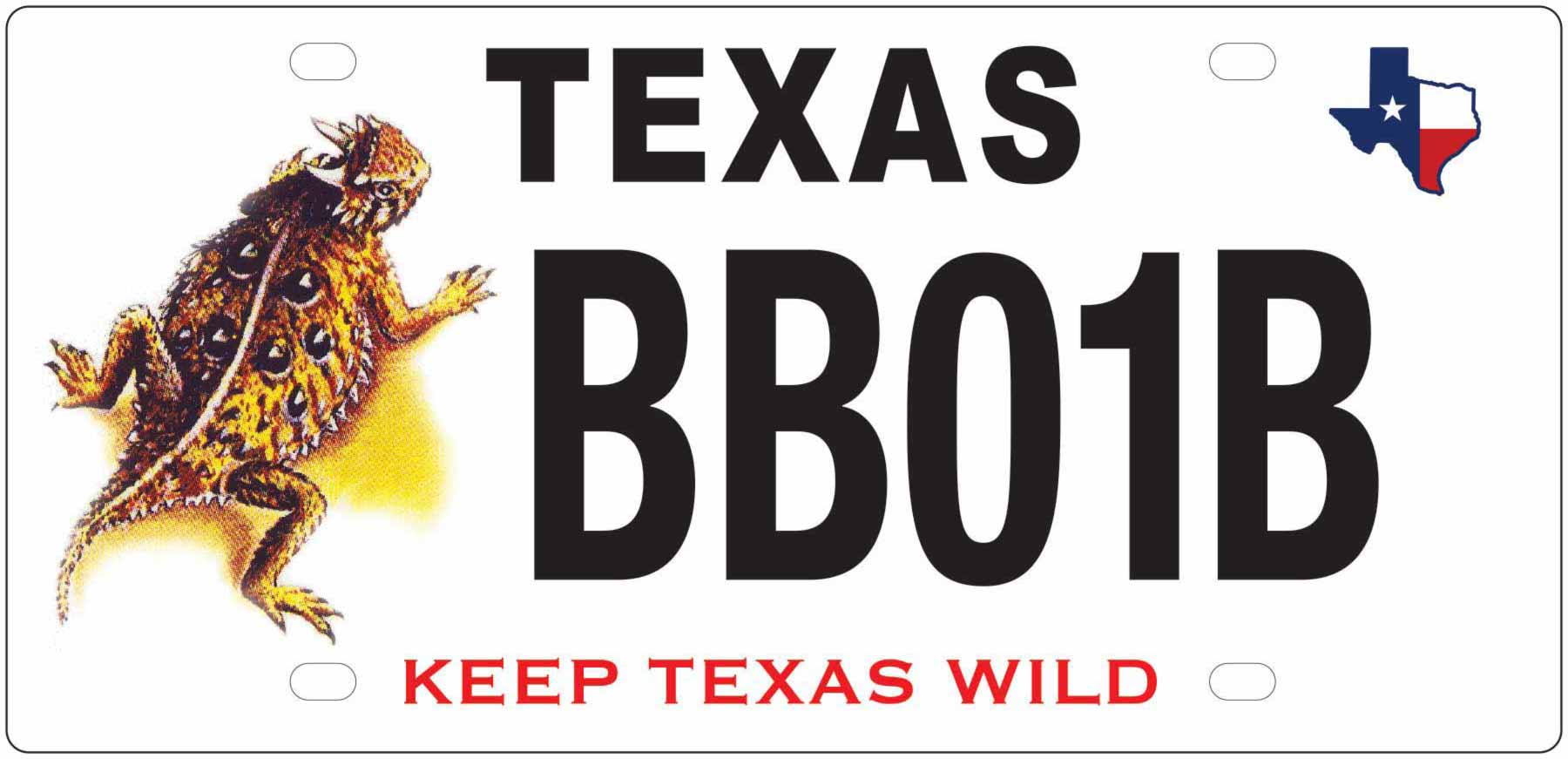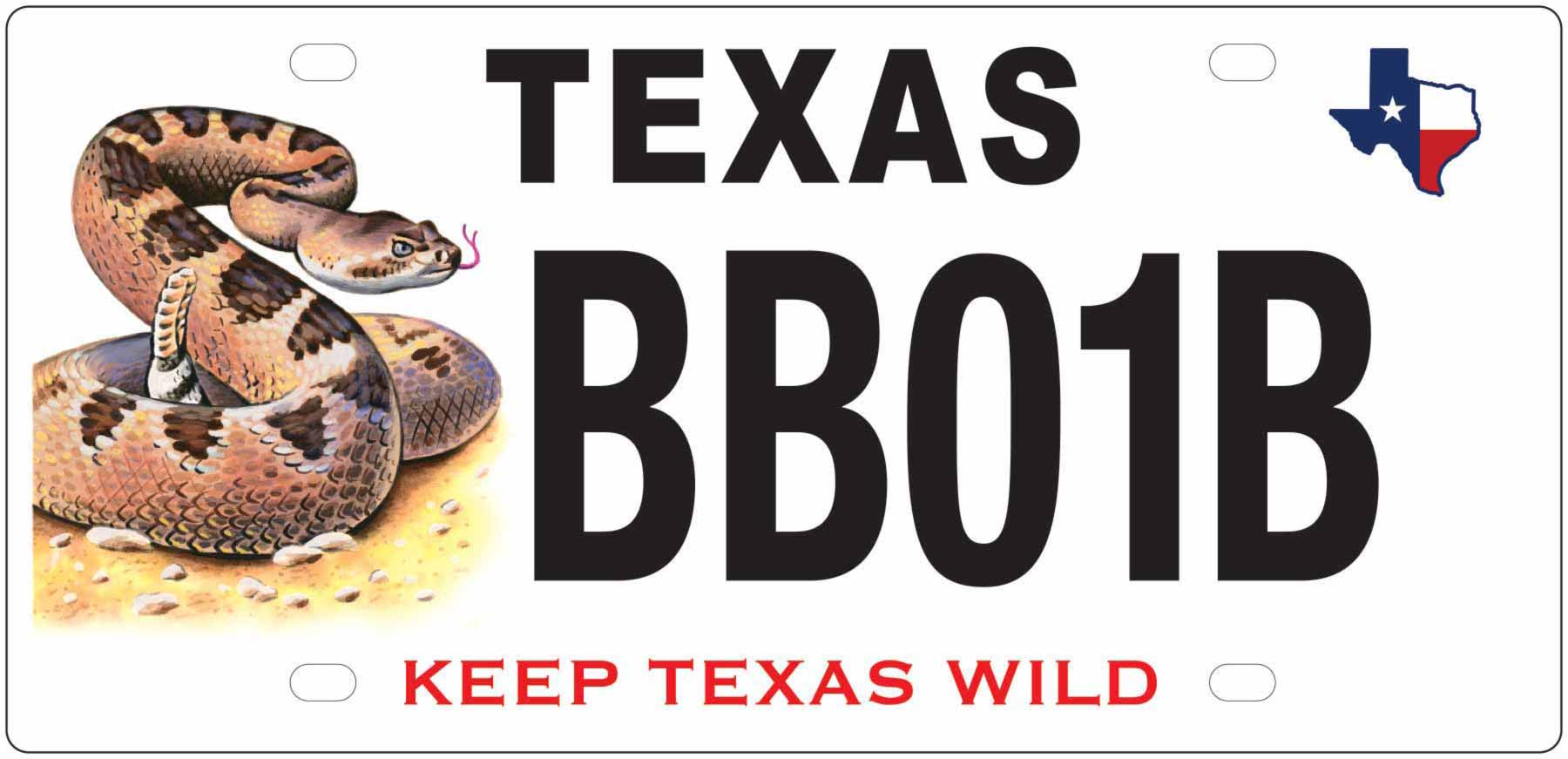 Recipient: San Antonio Zoo
Description: The Rough-footed Mud Turtle (also known as the Big Bend mud turtle or Chihuahuan mud turtle) is only inches in size and can be found near rivers and streams in Texas and Northern Mexico. These turtles possess the largest range of subspecies from central Mexico through the Big Bend, yet their species is threatened in Texas. Researchers at the San Antonio Zoo will study the taxonomic status of the Rough-footed Mud Turtle by gathering population genetics using next-generation sequencing. Additionally, on-foot efforts will be made by taking DNA samples from the turtles themselves before releasing them back into the wild. Both actions are necessary to determine the population diversity of the Rough-footed Mud Turtle and discover the best conservation actions needed.
Recipient: Stephen F. Austin State University
Description: Erosion Control Products (ECP), such as mulch control netting, erosion control blankets, and hydromulch, are routinely used to stabilize seed and soil in road, stream, or sod projects. However, some ECP contain a plastic monofilament mesh and pose risks to several wildlife species. Nylon mesh netting of 1" square or more is often embedded in erosion control materials and has been exhibited to entangle wildlife. Researchers at Stephen F. Austin State University will conduct complementary field surveys, field experiments, and laboratory experiments to examine the vulnerabilities of wildlife, particularly snakes, to entanglement in various erosion control products. In turn, these results will be used to develop best management practices for Texas developers.
Recipient: UT San Antonio
Description: The bigtooth maple is one of the most interesting and striking trees in Texas. It grows in limestone and indigenous soils and displays a beautiful array of colored leaves during the fall season. Researchers at UT San Antonio will study and map the population of bigtooth maple across 15 properties in Bandera and Real counties in central Texas by foot and by unmanned-aircraft. Their results will provide baseline natural history information for bigtooth maple forests in the Edwards Plateau, and evaluate the potential of using unmanned aircraft to facilitate more efficient and rapid assessment of bigtooth maple forests and other plants that are species of greatest conservation need.
Recipient: Sul Ross State University
Description: Historically, black-tailed prairie dogs occupied suitable desert grassland habitat across the Trans-Pecos ecoregion. Drought, disease, and intensive control efforts significantly reduced their populations. Changes in land ownership, and new techniques to help black-tailed prairie dogs persist through drought and disease, have occurred over the last few decades. Due to these changes, researchers at Sul Ross State University will reintroduce one population within one colony of this species to a private ranch within its historic range in the Marfa Grasslands (one of the Commission for Environmental Cooperation's priority grassland conservation areas). The reintroduction will help this suppressed species, as well as directly benefit several other desert grassland species, including pronghorn antelope, burrowing owls, kit foxes, and mountain plovers, which have all been documented to benefit from the presence of black-tailed prairie dog colonies on the landscape.
Recipient: Turtle Survival Alliance
Description: The Turtle Survival Alliance is currently performing a long-term, mark-recapture population study on the state threatened Western Alligator Snapping Turtles living within the Buffalo Bayou and its associated watershed in Harris and Fort Bend Counties, Texas. Their long-term monitoring study will be important to protecting and understanding an iconic and state threatened species here in Texas. This species is well-known by the public, yet highly invisible due to their cryptic habits and habitat preference. Because of this, the understanding of the populations of this species in the Greater Houston Metropolitan Area will benefit the species itself, the management of our waterways, and be a source of intrigue and pride for Houstonians.
Recipient: North American Butterfly Association
Description: The Frosted Elfin butterfly gets their name from the male's grey scales on their hind wings that make them appear "frosted." The Texas Frosted Elfin has a single adult flight period each year from approximately the end of February through early April. Researchers at the North American Butterfly Association plan to survey these butterflies at their multiple likely locations across Texas to assess and recommend a state ranking for this unique species.
Recipient: Botanical Research Institute of Texas
Description: NatureServe Conservation Status Ranks assess the conservation status of species at the global, national, and sub-national scale. In April of 2010, NatureServe Conservation listed Symphyotrichum puniceum var. scabricaule (also known as the rough-stem asher) under the Endangered Species Act. However, the presence of new information and new threats warrants a reassessment of the ranks. This project will use the most current available information on a species' range, rarity, threats, and trends to properly rank the rough-tailed asher.
Recipient: Native Prairie Association of Texas
Description: Silveus' Dropseed Prairies contain regional and narrow endemic plants, rare plants, and peripheral species found only in northeast Texas. Researchers at the Native Prairie Association of Texas plan to map the globally rare Silveus' Dropseed Prairies using GIS/Remote Sensing Software, document the current condition and quality of their habitats on private and public lands, and create a Floristic Quality Index for each prairie site visited. This data will be utilized by state-wide and regional land trusts for conservation planning and to focus on forthcoming land acquisition.
Recipient: LBJ Wildflower Center
Description: A LBJ Wildflower Center botanist will survey new sites in south and south-central Texas for three federally-petitioned plants and submit Texas Natural Diversity Database Reporting Forms to TPWD for each site. Additionally, they will offer one pre-season seed collecting workshop and one mid-season seed processing workshop to as many as 24 natural resource professionals. After being trained to use the NatureServe rank calculator, the LBJWC botanist will collaborate with the TPWD rare plant botanist to select twelve plant species to be ranked/re-ranked, review in-house data, locate additional resources, and create additional Texas Natural Diversity Database references.
Recipient: Texas A&M Agrilife
Description: The Spot-tailed Earless Lizard (Holbrookia lacerata) is thought to be declining throughout its range. In 2017, TAMU-NRI began mark-recapture and radio-telemetry studies of H. lacerata populations belonging to each (sub)species. Texas A&M Agrilife will continue their data collection in order to inform development of standardized survey protocols, and determine fine-scale habitat requirements, movement and activity patterns, and population density estimates for this high-priority species of greatest conservation need.
White-tailed Deer and Desert Bighorn Sheep License Plate Funded Projects
Show your support for Texas big game! Put a White-tailed Deer or Desert Bighorn Sheep plate on your vehicle, trailer or motorcycle and help fund wildlife management and research.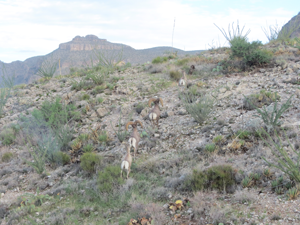 Background
Desert bighorn sheep were extirpated from Texas in the early 1960s. Early restoration efforts introduced desert bighorns into a few of the historical ranges with limited success, while other mountain ranges remained unoccupied. A few introduced bighorns persisted in those mountains for several years, but the numbers steadily declined. In mountain ranges where bighorns were able to establish viable populations, those ranges have been monitored through time to obtain herd data.
Wildlife managers have recognized the need for systematic surveys to determine desert sheep numbers and trends for many years. During the 1950s many techniques were introduced to derive bighorn sheep population estimates, but most survey methods were unreliable.
Desert bighorn sheep surveys improved through time as technology advanced. Research conducted by state game agencies in Arizona and Nevada indicated that late summer helicopter surveys were the best method for obtaining bighorn sheep population data. August/September helicopter surveys consistently produced greater total observations, reliable sex and age ratios, and better correlation of fall lambs to annual recruitment, when compared to other stable populations. Systematic desert bighorn sheep aerial population surveys did not occur in Texas prior to 1990. Annual helicopter surveys were initiated in West Texas during August 1990.
Desert sheep population information obtained from helicopter surveys during 1990-2013 has been used to assess population trends, distribution, sex/age composition and to make annual harvest recommendations. Aerial helicopter surveys have provided adequate data sets for making management decisions concerning desert bighorn sheep. Helicopter surveys conducted in August/September have been effective and continue in all mountain ranges supporting populations of free-ranging desert sheep.
Need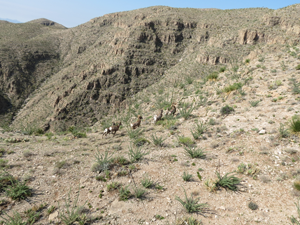 The Trans-Pecos region of Texas currently supports 9 free-ranging populations of desert bighorn sheep, which occur within the Baylor, Beach, Sierra Diablo, 9 Point Mesa, Eagle and Van Horn mountains, and the Texas Parks and Wildlife Department's (TPWD) Black Gap and Elephant Mountain Wildlife Management Areas (WMAs) and Big Bend Ranch State Park (Bofecillos Mountains).
In the last 5-7 years, numerous sightings of desert bighorn sheep have been reported in currently unoccupied bighorn habitat, suggesting natural expansion. The investigation of these sightings is critical to ensure proper attention beneficial to desert bighorns is dedicated to those mountain ranges in the future.
A few mountain ranges that have not been surveyed in the last several years include the Quitman Mountains, Sierra Vieja Mountains, and other smaller individual ranges within the Trans-Pecos. Bighorn sighting reports prompted the survey of the Carrizo Mountains in Culberson and Hudspeth Counties in August 2013. A small herd of bighorns was observed. Consequently, the Carrizo Mountains will now be included in future surveys, which will require additional resources (e.g. funding, manpower, helicopter flight time, etc.).
In addition to surveying currently occupied ranges, as populations thrive and either naturally expand to other mountain ranges, or are restored to unoccupied habitat, the need to survey new areas will increase. As new technologies are developed and/or improved (e.g. CyberTracker, rugged laptop data collectors, etc.) they will be incorporated into helicopter surveys to supplement survey efforts and support population estimates.
This program improves science and the consistency of aerial pronghorn surveys in the Panhandle.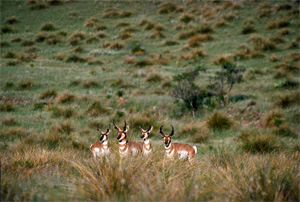 Summary
Annual State pronghorn surveys are conducted in the Panhandle by fixed-wing aircraft in the months of June and July. The pronghorn habitat in the Panhandle is separated into 46 herd units that comprise more than 8.2 million acres. The District 2 staff is annually surveying approximately 24% of the total herd unit acreage.
Because flight hours are limited, field staff surveys only portions of most, but not all, herd units annually. Due to the vast expanse of pronghorn range in the Panhandle and limited flight hours, survey methodology is inconsistent with other regions (Trans Pecos and western Edwards Plateau/Permian Basin). Survey methodology in other regions involves complete counts of most herd units annually, while rotationally surveying a minority of herd units (alternate-year or third-year rotation) that are less critical (i.e., very low pronghorn numbers or low permit issuance rate). In the Panhandle, survey methodology incorporates the use of permanent survey "blocks" established in the 1970s or after that generally comprise a minority of each herd unit (sometimes as little as 10-15% of the herd unit). These traditional survey blocks are intended to serve as a trend or index for the remainder of the herd unit. Occasionally, the survey block is similar to the remainder of the herd unit, but in most herd units the survey block is very different and often encompasses superior habitat than that existing in the remainder of the herd unit. As a result, pronghorn numbers and trends often are not representative of numbers/trends in the herd unit as a whole.
Procedure
Ideally, survey of all or almost all herd units annually, as is done in the other 2 regions, would provide superior data for population estimates and permit issuance. Given limited funds and time, this is not possible. The next best approach involves surveying approximately 50% of herd units on a rotational basis, such that all herd units are surveyed every 2 years. Herd unit population estimates during non-survey years would be based upon previous year survey results, combined with the current-year trend in adjacent or nearby herd units that demonstrate similar population trends.
Funding from license plate sales will allow us to initiate the process of converting survey methodology in the Panhandle to complete survey of herd units on a rotational basis. Complete herd unit coverage (vs. partial coverage) will improve the science behind estimates of pronghorn populations and permit issuance. Furthermore, this methodology better satisfies the TPWD charge of implementing consistency in survey techniques among regions.
Background and Funding Need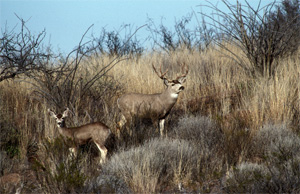 For the past 3 decades, Texas Parks & Wildlife Department (TPWD) annually conducted mule deer surveys with fixed-wing aircraft, as well as night-time spotlight surveys during fall. In 2006 TPWD began conducting aerial mule deer surveys by helicopter to improve estimates of deer numbers and herd composition. In January and February each year, random transects of varied lengths are flown in monitoring units of High, Medium, and Low deer density. Total mule deer range comprises 24.3 million acres in the Trans Pecos and 13.7 million acres in the Panhandle. Survey transects in 2007 constituted less than 1% (0.54%) of the total mule deer range. Wide confidence intervals of monitoring unit estimates (+ 54% for Low; + 41% for Moderate; + 23% for High) were largely a result of low sample size, diversity of deer habitat and distribution, and improper herd unit delineation (because of incomplete knowledge of deer populations). However, confidence in estimates can be greatly increased with improved delineation of monitoring unit boundaries (by decreasing variability among transects). This process was initiated in the Trans Pecos in 2006 and initiated in the Panhandle in 2007. An increased number of transects during 2007-08 surveys helped to improve knowledge of deer distribution and density, and ultimately improved monitoring unit delineation. These added transects are needed each year in both ecoregions to increase statistical validity of population estimates and knowledge of our Texas mule deer herd.
Recent findings from our mule deer sightability research provide biologists a better estimate of true population size compared to raw count trend data. Conclusions from the research indicate using a certain sightability model that includes data taken during each individual mule deer observation such as sex, age, and group size of deer, vegetation, deer activity, light, terrain, and distance from helicopter are key in providing more accurate and precise population estimates, and advancing mule deer management in western Texas.
Additionally, a buck-only mule deer season was proposed in Sherman, Hansford, Gaines, Martin, and eastern Andrews counties for the 2008-09 season and in Dawson and Wheeler counties during the 2009-10 season. Deer numbers are generally low in these counties, and survey data is limited. The hunting season proposals were based upon occasional deer sightings, landowner reports, general knowledge of deer presence, and limited survey data. Current-year aerial survey transects in these counties helped to quantify general knowledge and assumptions, as well as provided some baseline information on deer numbers and herd composition prior to establishment of hunting seasons.
Project Benefits
Since 2008, aerial survey efforts have increased by 12-13% (10 additional random transects in Trans-Pecos monitoring units and 5 additional transects in the Panhandle) to help improve statistical confidence in estimates and delineation of monitoring unit boundaries. Monitoring unit boundaries have been revised as a direct result of the new information obtained from these additional transects.
Because of the need to collect significantly more information during mule deer surveys to apply the sightability model, better survey equipment for data collection must be purchased. Using touch screen laptops that are docked and mounted in the helicopters and are blue-toothed to aviation headsets worn by observers, biologists will be able to document essential data by recording their voice on the computer. GPS locations will also be taken by the computer once the observer taps the screen to start recording their voice file. Biologists will return to the office and playback their voice recordings while entering data in the same computer software. This data collection system is suburb for our mule deer surveys. It allows biologists to collect needed information at the same time still searching for deer during surveys (because the data recorder essentially never takes their eyes away from the survey area) and is efficient for post survey population estimate analyses.
Aerial survey transects conducted in Sherman and Hansford counties (3 transects) and in Gaines, eastern Andrews, and Martin counties (6 transects) improved knowledge and data (deer density and buck:doe ratios). In addition, transects flown in Dawson and Wheeler counties (3 transects) during 2009-10 increased our understanding of the mule deer herd in those areas. Surveying these transects provided support of mule deer seasons and valuable baseline information for these previously un-hunted counties.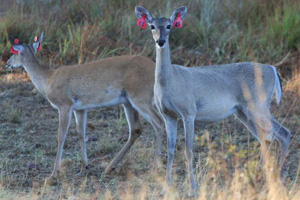 Determining white-tailed deer (Odocoileus virginianus) abundance and population characteristics on a tract of land is beneficial to good deer management, especially on small high-fenced acreages where deer populations may be more susceptible to slight perturbations. A continuing decrease in average landholding size and an increasing interest in deer-management has emphasized a need for a reliable population-estimation method for small acreages.
Our objective was to determine the accuracy and precision of abundance and sex/age ratio estimates derived from various population-survey methods, using known populations of white-tailed deer over a 3-year period. This research was being conducted within a 211-ha high-fenced enclosure on Mason Mountain Wildlife Management Area, located in Mason County, Texas. Texas Parks and Wildlife Department personnel captured white-tailed deer on private and public properties in central Texas each January - March and stock the study site with a herd of known population size and composition. After the population surveys are conducted during August and September of each year, all deer in the enclosure are harvested to determine the known number of deer. The enclosure was then observed from the air by helicopter (using Forward Looking Infrared or FLIR) to ensure that all deer had been removed. Population estimates derived from various survey procedures are compared to the actual known population. Survey methods evaluated include spotlight surveys (traditional and distance sampling), daylight mobile surveys, Hahn-line surveys, infrared-triggered camera counts, and stand counts.
Since March 2006, three populations have been introduced, surveyed, and removed from the study site. Data for all three years are currently being analyzed. We look forward to this project improving the knowledge of deer managers in Texas and the efficiency of management under small high fenced acreages by determining reliable population-estimation methods for deer populations.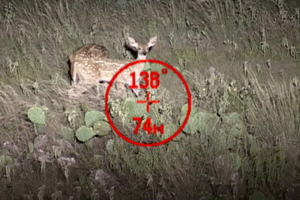 Since the mid 1970's, Texas Parks and Wildlife Department (TPWD) has been monitoring white-tailed deer populations and harvest throughout the state.
TPWD currently monitors white-tailed deer populations in 30 of 35 Resource Management Units (RMU's). Data collected during these efforts allow TPWD biologists to evaluate the effects of various harvest strategies on white-tailed deer populations, and identify populations where an increase or decrease in deer harvest is necessary. The methods used to obtain white-tailed deer population data were improved significantly in 2005, resulting in more reliable population estimates.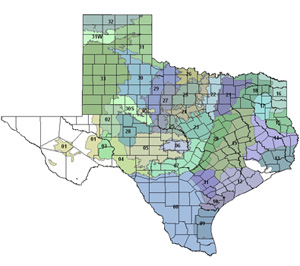 Current methodology relies on technological advancements including accurate laser range-finding binoculars and GPS receivers, which have been acquired with funds generated by the sales of the White-tailed Deer license plate. Furthermore, funds generated from the Deer license plate will be used to make deer population and harvest data readily available to the public through the Texas Wildlife Information Management System (TWIMS). When this internet database application is available, the public will be able to access graphs, charts, and tabular data regarding deer population density, sex ratio, fawn crop, age structure, hunter success, and more, for each of the RMU's monitored. You will be able to witness the effects of various hunting regulations, such as antler restrictions, on deer populations throughout the state. Although much work is required to complete this application, TPWD will publicize how to access this application once it is available.
Largemouth Bass License Plate Funded Projects
Show off your bass! Put a Largemouth Bass plate on your vehicle, trailer or motorcycle and help keep bass fishing BIG in Texas.
Bass fishing in Texas offers fishing opportunities unlike any other place in the world. Where else can you chase trophy Largemouth Bass in world-renowned East Texas reservoirs such as Lake Fork, Sam Rayburn and Toledo Bend; slide down to the border to Lake Amistad or Falcon for a truly unique experience; or drop a canoe in one of our gorgeous spring-fed rivers and catch a Smallmouth Bass or Guadalupe Bass? Your purchase of a Largemouth Bass Conservation License Plate today helps secure a promising future for bass fishing in Texas.
Quality bass fishing in Texas did not happen by accident. The Texas Parks and Wildlife Department (TPWD) Inland Fisheries team continues to set the bar for bass management. Angler engagement programs have always been an important part of our success. The Toyota ShareLunker Program, in which anglers share information about their big bass catches with TPWD, is one example. We use this data to help manage the fisheries and give beneficial information back to anglers. TPWD also worked with bass anglers to create a new tournament format called "catch-weigh-immediate release". These methods have improved survival of tournament-caught bass and are changing the way some tournaments are fished in the country. These are just a few ways that anglers are involved in bass management and are making fishing better. Looking forward, we are striving to engage the bass fishing community in new ways. Help us fund projects like these.
Conservation projects are now being implemented by local fishing clubs and other volunteer organizations across our state, in partnership with TPWD. These projects also need our support. TPWD works with partners to improve fish care, gather public opinions and feedback, improve fish habitat, and support research that makes fishing better. Please help support projects like these that bring anglers and biologists together to achieve common goals.
As the popularity of bass fishing grows, TPWD will need new funding sources to support our bass fisheries and the anglers who use them. Evidence of growth can easily be seen in the rapid expansion of high school and college bass fishing programs across Texas. It will be important to provide a bright fishing future for this young generation of anglers. At the end of the day, it is TPWD's goal to provide an enjoyable and memorable experience to all anglers every time they hit the water in pursuit of bass, be it a first catch or the next state record.
From 2015-2017, over $110,000 from Bass Conservation License Plate funds have been used to complete more than 30 enhancement projects in Texas public waters.
Reservoir aging and increased sedimentation lead to a loss of fish habitat, which can affect fish populations and lead to fewer fish being caught by anglers. Fish habitat is important because it provides a safe space for young fish to hide and a foraging location for sport fish. Well-placed fish attractors can benefit boat and shoreline anglers by attracting sport fish to a location where anglers can have improved catch rates. Funds generated by the Bass Conservation License Plate helps facilitate efforts to make fishing better and more accessible.
Here are a few examples of the fish habitat and angler access projects that have been completed using Bass Conservation License Plate funds:
Fish attracting structure: Many different kinds of structures are used to create long-lasting habitat for fish. Some are made from natural material while others are man-made. Each has an intended purpose and benefit. Using various types of structures creates tight spaces for small fish to hide in as well as open spaces for larger fish to ambush prey.
Gravel beds: Sunfish are attracted to gravel beds for spawning locations. The creation of additional spawning locations can lead to higher recruitment of sunfish and more prey for sport fish.
Underwater lights: Sport fish and their prey are attracted to underwater lights at night. Fish learn these locations are good feeding areas and will return nightly, enhancing an angler's likelihood to catch fish.
Native Aquatic Plant Communities: TPWD and its collaborators have established seven nurseries that raise beneficial native aquatic plants. Plants produced in these nurseries can be used to support Bass plate funded habitat projects in reservoirs across the state. These native aquatic plant communities provide excellent fish and wildlife habitat, improve water quality, and prevent shoreline erosion. Information about each nursery can be found on our fisheries management pages.
Paddle craft launches: Paddle craft fishing is growing in popularity. Launch areas devoted to kayaks and canoes increase user access and provide safe locations for paddlers to enter and leave the water.
Aerators: Aerators improve water quality in small ponds by increasing the amount of oxygen in the water. This can help prevent fish kills due to low oxygen levels.
Texas Rivers License Plate Funded Projects
Show your support for Texas Rivers! Put a Texas River plate on your vehicle, boat trailer, motorcycle, RV or travel trailer and help protect and preserve Texas Rivers. Sales from this plate will help fund a vast array of projects that help protect Texas Rivers and the fish, wildlife and habitat they make possible
The Conserving Texas Rivers Initiative represents a public-private partnership that is successfully leveraging project-based funding and other resources to conserve some of Texas most scenic, wild, and storied rivers. The Conserving Texas Rivers Initiative is designed to help build and sustain capacity among local landowners, communities, and nongovernmental organizations to conserve and advocate for the long-term preservation of their hometown rivers. Although focused statewide, current projects supported through the Conserving Texas Rivers Initiative center on rivers of the Texas Hill Country, where Texas Parks and Wildlife Department is cooperating with an extensive network of national, state, and local conservation partners including the Devils River Conservancy, Hill Country Alliance, Llano River Watershed Alliance, National Fish and Wildlife Foundation, Southeast Aquatic Resources Partnership, Texas Parks and Wildlife Foundation, and The Nature Conservancy of Texas.
The clear, spring-fed rivers of the Hill Country are ecologically-unique, hosting 14 species of native fishes found nowhere else in the world, including the official state fish of Texas, Guadalupe Bass. Hill Country rivers are also recreationally and economically valuable. For example, bank, wade, and kayak fishing in rivers of the Texas Hill Country generates an annual economic impact of $71M. Fishing and other recreational uses of Hill Country rivers, such as paddling, tubing, and wildlife-viewing, are inextricably linked to natural river flow patterns and intact habitats characteristic of pristine, unaltered rivers of the region.
Since its establishment in 2010, the Conserving Texas Rivers Initiative continues to deliver science-based, scale-appropriate, and transformative actions to help keep Hill Country rivers healthy and flowing and maintain the recreational values described above. Outcomes of the Conserving Texas Rivers Initiative from 2010-2017 are summarized below.
$1.2M in TPWD funding was leveraged 1:13 against $4.5M in project-based grants and donations and $11M in partner matching funds to deliver the subsequent results
Conducted 54 river conservation workshops attended by over 1,500 landowners with a reported land ownership of more than 200,000 acres
Developed a riparian habitat handbook and restoration design manual that were distributed to Hill Country landowners and regional conservation practitioners
Provided onsite technical guidance on aquatic habitat management strategies to landowners that steward more than 123,000 acres of ranchlands in Hill Country watersheds
Designed and invested in cost-share landowner incentives that restored approximately 9,327 acres of aquifer recharge features, springs, creeks, and riparian buffers in focal watersheds
Restored and protected 50 springs that contribute flows to Hill Country rivers
Provided cost-share assistance to partner land trusts to secure conservation easements on five ranches, protecting aquifer recharge features, headwaters streams, creeks, and riparian buffers on 15,890 acres of Hill Country watersheds
Conducted surveys for aquatic and riparian invasive plants on 217 miles of the Llano, Pedernales, and Blanco rivers, assembled management plans, and implemented large-scale control measures
Identified beneficial alternatives to current bridge designs used on Hill Country rivers and provided technical guidance on the replacement of two low-water bridge crossings on the South Llano River
Provided guidance on removal of two low-head dams on the Guadalupe and San Marcos rivers
Completed assessments of Guadalupe Bass populations in the South Llano, North Llano, Llano, Pedernales, Guadalupe, Blanco, and Colorado rivers
Successfully repatriated Guadalupe Bass to the Blanco River and reintroduced Guadalupe Bass to the Mission Reach of the San Antonio River
Stocked Guadalupe Bass in the South Llano River to support genetic restoration of a hybrid population, successfully reducing hybridization levels to below the conservation target
Revenues generated from sales of the new Texas Rivers Conservation License Plate will provide continued financial support for the types of projects described above, and address a critical need of the Conserving Texas Rivers Initiative by providing non-federal matching funds. These non-federal matching funds will be used by the department to meet the cost-share requirements of various federal and private granting programs that support river conservation. With an anticipated leveraging ratio of at least 1:4, the department expects that each Texas Rivers Conservation License Plate purchased will generate over $100 annually for river conservation.
Texas contains 191,228 miles of streams, creeks, and rivers, including 40,194 miles of perennially flowing waters. The state maintains public navigability laws that ensure the right of paddlers, anglers, tubers, and other river recreationists to wade, paddle, or float many of Texas rivers. However, private ownership of riverbanks significantly inhibits public river access in the state. The preponderance for privately-owned river banks reflects general land ownership trends in Texas, a state where less than five percent of the landscape is in public ownership.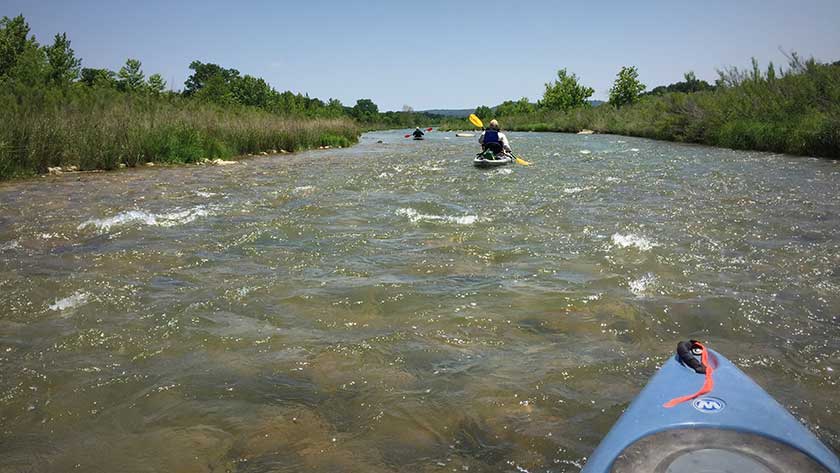 To enhance public access opportunities and encourage nature-oriented recreation on Texas rivers, Texas Parks and Wildlife Department established the ever-expanding Texas Paddling Trails Network, which currently consists of more than 70 trails. The Texas Paddling Trails Network designation promotes existing public river access areas that offer safe and reliable access and family-friendly paddling opportunities. Many of the access areas contained within the Texas Paddling Trails Network are located at city, county, and state parks and public boat launches. Texas Paddling Trails have increased public awareness of river access and recreation opportunities, and enhanced the outdoor recreation economy for many local communities. A recent economic impact study of the statewide Texas Paddling Trails Network conservatively estimated an annual economic impact of over $160 million dollars.
Despite the improved river access opportunities afforded to Texans through the Texas Paddling Trails Network, river access continues to be limited because of the nature of land ownership in the state. However, Texas landowners recently became part of the solution for expanding public river access. In the year 2000, Texas Parks and Wildlife Department began leasing private lands for public access to bank and wade fishing opportunities within the Guadalupe River trout fishery. In 2004, an economic impact study indicated that for every dollar spent by the department on these public access leases and trout stocking, $4.75 of economic value was generated for the local economy.
In 2012, the department significantly expanded its use of private lands leases as a tool to enhance public river access. Funded through a competitive grant awarded by the U.S. Department of Agriculture, the department invested $150,000 to lease private lands for public access to bank, wade, and kayak fishing on Texas rivers. This investment supported seven multi-year river access leases on the Brazos (2), Colorado, Guadalupe (3), and Neches rivers, and resulted in creation of the department's River Access and Conservation Areas Program.
In 2014, the department was awarded $775,000 in competitive grants from the U.S. Department of Agriculture and Texas Parks and Wildlife Foundation to further support river access leases. This allowed the department to expand the program to include 19 multi-year river access leases on Brazos (3), Colorado (4), Devils (2), Guadalupe (4), Llano, Neches, Nueces, Sabine, San Marcos, and South Llano rivers. The two newest leases opened on the Devils River in spring 2017, and one lease recently closed on the Colorado River. Our current grant from the U.S. Department of Agriculture will allow us to support the 18 active river access leases thru fall 2018.
Texas Parks and Wildlife Department continues to apply for competitive grants and seek private donations to continue the current leases beyond fall 2018 and hopefully add many more river access leases throughout the State. Limitations of the program are primarily the availability of funding and ability to locate willing landowners. Through your purchase of a Texas Rivers Conservation License Plate, you will play an important role in helping to maintain and expand public access to nature-oriented recreation on Texas rivers through the River Access and Conservation Areas Program.